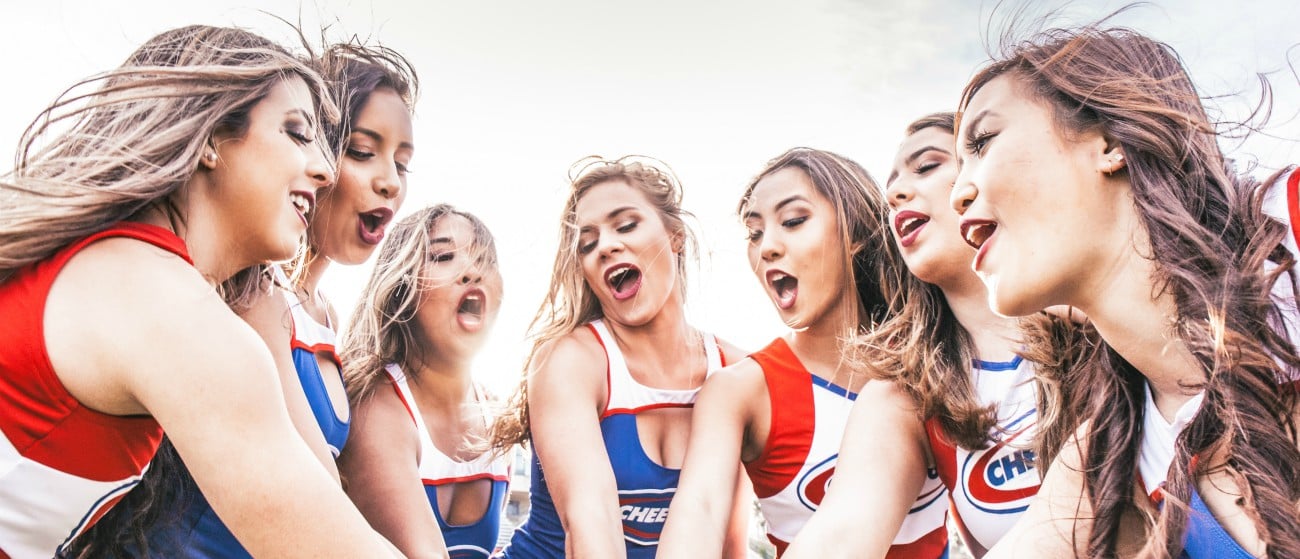 A cheer or dance performance without music is like a fish without water. Music sets the mood of the show, keeps the audience engaged, and ensures the entire squad is coordinated and on point. Selecting the music for a big performance can be tricky, but the process can help you sharpen the vision for your routine. A good music song for a cheer or dance performance has a few important qualities:
High-Energy
It goes without saying that the music should pump up both your squad and the audience. feature motivational popular music, and have just the right amount of sound effects to maintain the hype throughout the routine.
Every Power Music cheer and dance mix is already amped up to a high-energy tempo and features horns, whistles, and hype throughout. You also have the option of customizing any track by adding voice-overs and catch phrases to the mix. Examples of some of our highest-energy mixes include our Platinum Hip-Hop Cheer Mix and our Dance Theme Cheer Mix.
Thematic
You should also be searching for music that fits the style and image of your team as well as the specific theme of the performance. Are you aiming to please your peers and pump up the athletes? Maybe a mix featuring the current pop hits, like our Top Pop Mix, is what you want. Looking for a touch of nostalgia? Check out our Disco Cheer mash-up, our 80s Arena Rock Anthems mix, or our Old School mash-up that hearkens back to the Jock Jams golden age.
Aside from the genre of music you select, the lyrics can also help drive home a certain message. For a heavy dose of confidence, our High Hopes Champion Cheer Mix, featuring "High Hopes" by Panic! at the Disco, "You Should See Me in a Crown" by Billie Eilish, and "The Champion" by Carrie Underwood, will send a not-so-subtle message that you are cheer royalty and you know it. If you're going for a strong feminist vibe, our Beyoncé Cheer Mix, featuring "Formation," "Flawless," and "Grown Woman," or our Queens of Hip Hop dance mix, featuring songs originally made famous by Missy Elliott, Rihanna, and Cardi B, are options that cannot lose. Or if you're looking to send a message that hard work pays off, check out our Wurk It Hip Hop Mix.
Be Original
To stand apart from the competition, you'll want to make sure your music is as unique as your squad. Every Power Music Cheer mix is created by one of our music producers to be innovative, intense, and full of "wow" moments.
To make your performance soundtrack even more original, you can customize any of our mixes, adding voice-overs, references to your team mascot and school colors, and specific cheer phrases. You can also choose from a variety of mix lengths depending on your performance type. Plus, you can browse our collection without anxiety, because all of our tracks are 100 percent legal to use for any cheer or dance competition.
Check out our large selection of cheer, pom, dance, and time-out mixes here, and prepare to amp up any audience with your next performance.